Well, my weekend was definitely lazy. We didn't even do anything for the 4th! But from the looks of your posts, you all had a great weekend! I was just SO grateful to have a 3 day weekend because I so needed it!
Considering I don't have much to talk about today, it's perfect timing that
C. Mae
has brought back her link up, Tail Wagging Tuesday! I don't like coming off like that dog obsessed woman
that I really am
so this is the perfect excuse to show 'em off :)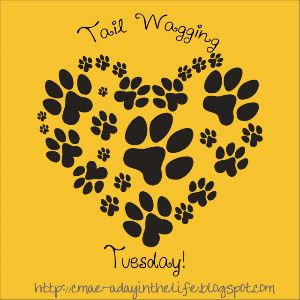 The theme this week is pictures of the fur babies enjoying their summers thus far..
Problem is, my poor boys are hating the summer [as are we!]. Temps for the past couple of months have been in the high 90s-low 100s EVERY DAY and we are SPENT. I think the boys prefer the Fall, like their momma ;)
I know dachshunds are finicky about rainy or snowy weather but I had no idea they would get this bad during the summer because this is the first summer they've done this! I almost have to drag Niles on the sidewalk just to move! There have been points where he just stands there and stares at me because he does NOT want to walk. Brat. I think their only summer wish is to lay on a cool blanket in the a/c and drink lots of water!
Warning: X-rated pics ahead. ha!
I can imagine Frasier's cooling off position is very effective :)
Blurred pic I took of Niles at my mom's. He was right near a fan :)
Looking pathetic this past weekened on their favorite cool blanket :)
But I don't blame them - hell, if I could do nothing but sleep all day, I would too. It's effing HOT!
I can't wait to see all your pups! have a great day!