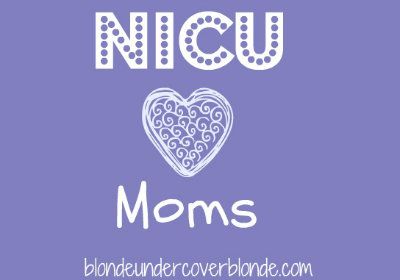 I'm linking up with Heather and sharing our NICU story!

The first time I got to see her!
Baby's Name: Violet
Gestation Age at Birth: 40 weeks, 2 days
Time in NICU: 1 week
Birth Stats: 6 lbs, 18 1/2 inches
Reason for NICU stay:
Our NICU story is a little different from the norm! Violet was actually full term and overdue! but when she was born, she had passed her first stool (
meconium
) in the womb and there was no telling how long she'd been in it or how much she had in her lungs. Babies with this issue can end up with respiratory issues so that, along with being such a small baby for being overdue is what set off sending her to the NICU. The doctor and nurses worked hard to get all the meconium out of her and to make sure she was breathing properly. She ended up with an infection though so the doctor ordered antiobiotics for 7 days which is how long she was in the NICU.
The full delivery story can be found
here
and
here
.
Obstacles:
Violet was only on oxygen for a day and a half so we were hopeful! But by the end of her second day they discovered the infection and said she would need antiobiotics for 7 days. Luckily they had started the antiobiotics the day she was born so it wasn't going to be an
extra
7 days in the NICU at that point. Violet had a really hard time with all her IV's and they kept falling out no matter where they put them so they told us she would need a
PICC line
. The doctor really scared us with all the possible risks but we knew it was the only way to ensure she'd get her antiobiotics. When they had to bring in a specialist from another hospital to do it and made us leave the NICU during the process, that made us worry even more about how serious it was! Poor girl had a hard time with the PICC line too and it had to be inserted two different times. It was just so hard watching our teeny girl be poked and proded every day and covered in little bruises.
Coping: When she was sent to the NICU, all I could do was blame myself. My rational side knew that wasn't the case but I couldn't help but feel guilty. Having Ronnie by my side at all times though made things SO much easier. I really think NICU parents need that time with each other because it really does make you stronger for that baby! And funny enough, Ronnie and I made some good memories during that time - and all while I was pumping! Every time we went to visit, we'd stop first in the nursing room outside of the NICU so that I could pump more for Violet. We would sit in this little room watching TV while I pumped and he would help me get set up and with clean up. We had some really great talks and though it wasn't under great circumstances, I'm really grateful for that time!
What helped us the most though was our amazing NICU nurses! They were tough, focused ladies but also so sweet and nurturing. I trusted them 150% with our girl. Every time we visited, the nurse on duty would first give us updates on Violet and then put us to work! Which of course we were happy to do. They would have us feed her, change her, change her outfits, bathe her, take her temperature, all of it. They wanted us to feel as comfortable as possible, which isn't easy when you're handed a tiny baby covered in wires! Ronnie and I call the NICU "Baby Bootcamp" because we learned SO much while Violet was there!
I had just bathed her myself for the first time! When Ronnie wasn't there, the nurses were awesome and would always offer to take pictures with our camera. I'm so grateful for these memories!
Daddy feeding his sweet girl!
As I know most of y'all NICU moms did, I cried my eyes out every time we would have to leave her. I know she was only there a week but no parent should have to leave their new baby behind for even that amount of time. If she was awake when we would leave, I couldn't stand the thought of her "seeing" us leave. I cried every night that she wasn't at home with us. But having support from our families and getting encouraging texts and tweets from friends really helped us through it.
Precious girl in her going home outfit <3
The now 12 week old chunky monkey :)
It's just an awful time to be honest. No one wants to see their baby hooked up to all those monitors and wondering constantly if they're breathing properly, if their heart rate is too high/low, if they would be OK when they came home...And every time you think of how other people got the "normal" birth story and got to take their baby home right away, it feels so unfair. That's normal though. It's not an easy time and you feel SO many different emotions!
The advice I would give other NICU parents is to remember that your baby is always in good hands so don't beat yourself up if you can't make it to the NICU as often as you'd like. I visited twice a day but always felt like I should be there 24/7. The truth is though, you just can't be and your baby does need their rest to get better. And most of all, you need to take time for yourself - MOM especially. Take advantage of that baby-free time to really rest and to properly heal. Friends who had c-sections too were shocked at how fast I healed but that was only because I didn't have a baby at home for a week so I got to relax and heal. It's definitely not an ideal situation but if it's the card you were dealt, you have to make the most of it. Because when your baby does get home, they need YOU to be at 100%! :)
Thanks to Heather for hosting this link up, I'm always up for meeting fellow NICU moms!!