Last year I linked up with Heather for her "NICU Moms" link up and met so many great mommies! Today is the follow up post!
Violet was in the NICU for a week and was actually born at 40 weeks, 2 days so she wasn't a preemie and was actually a "big baby" by NICU standards, being born at 6 lbs. The entire birth story can be found
here
and last year's full NICU post
here
.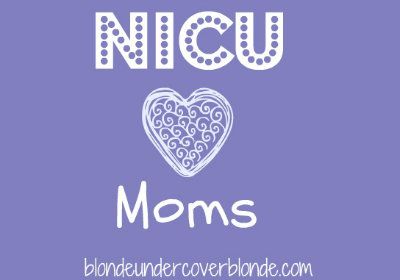 Right after being delivered by c-section, Violet was taken to the NICU because she was born in and had ingested meconium. In that situation the nurses usually just suction that out of the baby as much as possible but it seemed to be affecting her breathing and they were worried about infection so they whisked her away. Scariest time EVER. She did end up with an infection and had to be on antibiotics for a full 7 days hence the week long stay. She quickly made progress and though our situation wasn't nearly as dire or as scary as other babies in the NICU, it was awful nonetheless and we worried like crazy.
I was pretty upset over not getting the "typical" delivery, hospital stay and taking home my baby immediately but she recovered and got healthy quickly and that's all that matters. Those of you who are regulars around here have seen plenty of updates on V and she is doing SO great nowadays and you would never know she had any issues when she was born. Aside from the acid reflux she had for her first 9 months (not related to her birth issues, of course), she has just been as healthy as can be and has been reaching all of her milestones.
On her first birthday, Feb. 28th, she weighed in at a whopping 17 lbs., 14 oz and measured 26" :) Very petite for sure but she's been growing at a steady rate ever since her NICU days as a 6 lb., 18 1/2" baby!
It's been a great year with our girl for sure and we're so lucky to have had such a great "after" to our NICU story. I can't wait to read the other mom's stories and maybe meet some new ladies! :)